NEW HOURS
Open Mon.-Sat.
at 11:30am
Sun. 10am brunch

Welcome to Fays
Welcome To Fay's Restaurant! The "Real Fay," my mother, was the matriarch of our Italian family. She and her brother Mike opened the original "Fay's Knotty Pine" in 1961 at its former location in the north end of New Bedford.
"Nana Fay," is no longer with us but she will always be remembered as the beautiful and charming grandmother of the third generation of our restaurant family, Elizabeth and Matt, who just happen to be my pride and joy. Elizabeth and her husband Julio have also blessed us with our 4th generation and the most important members of our family, Julia Fay, Taylor Rose and their big brother, Matt. I am known as Fay's daughter, Liz and Matt's mom and my favorite title, Julia and Taylor's Nana! On occasion, someone remembers my name, Evelyn!
My deepest love and gratitude is given to our family – my grandparents, aunts, uncles, cousins and to our extended family – the capable and dedicated employees who have enabled us to become one of the best family restaurants in this area. They are the "Cornerstone" of Fay's.
Thank you for giving us the privilege of your patronage and your friendship. Buon Appetito!!!
Evelyn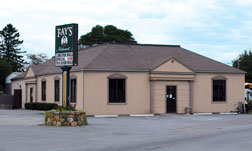 Fays Restaurant

613 Dartmouth St.
S. Dartmouth MA
508.997.8000
New Hours:
Open Mon.-Sat.
at 11:30am
Sun. 10am brunch
Click HERE to subscribe to the Fay's Eclub